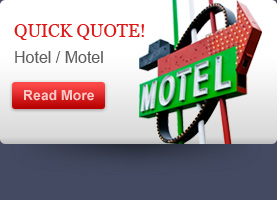 Hotel Insurance
Property & General Liability
Property coverage frame construction to masonry building, flat roofs to tile roofs. Single story exterior corridor, to the state of the art 4 story interior corridor with sprinkler systems and elevators. Coverage for one building or multiple buildings at one location.
Coverage's include: Building(s), contents, signs, fences, loss of income.
We can help place coverage from the ground up with our Builders Risk program to the package policy once you have completed construction.
General Liability coverage for properties with or without pools, restaurant and/or bars. Liquor liability.
Liability to meet most franchise requirements. Additional Insured wording, 30 day Notice of cancellation, Waiver of Subrogation.
Hired & Non-Owned Auto coverage, Umbrella Coverage, General Liability for vacant land or during the time of construction.
Workers Compensation
We can provide workers comp coverage for your maid service to the front desk clerk. Office personal that my or may not be on site.
We have companies that offer many discounts and credit to help keep your cost down. We also have a company that will offer dividends if you qualify.
Employers Practice Liability
EPLI coverage will help protect the employer from claim of wrongful termination and discrimination.
Flood Insurance
Flood Insurance is provided for our customers that request it or where it is required by the Mortgage Holder. We can get you standard flood coverage from the safest of flood zones to your high rated flood zones. We can help in the determination of the flood zone or to locate a FEMA qualified surveyor to help determine flood elevation.